Newly renovated apartment near the train station with a large terrace (16.7km)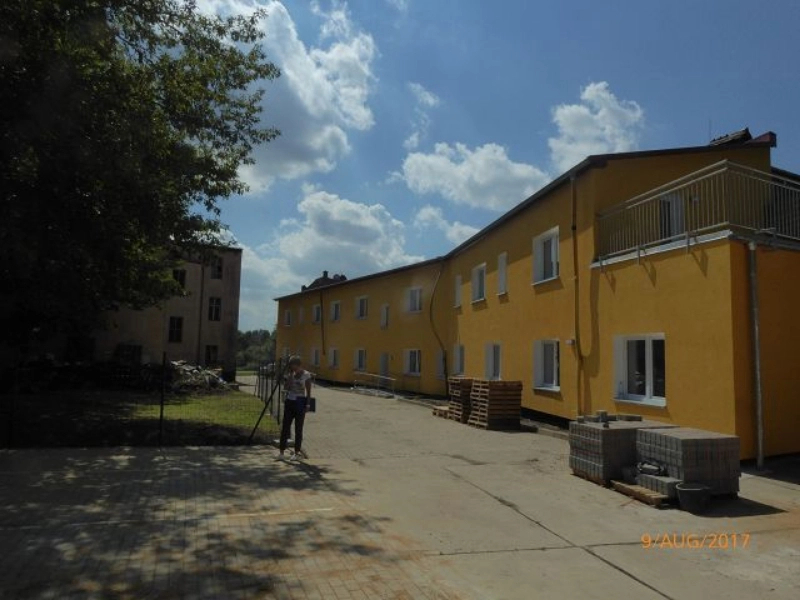 Overview
Inside
Electric facilities
TV - Satellite
Outside
Parking space
1 parking space.
Limitations & Requirements
Energy
Heating System
Central heating system
Prices
Parking space (one per unit)
30 EUR
Property description
Spacious barrier-free apartment consists of two rooms, a bedroom and a large kitchen.


Equipment
Completely barrier-free - apartment on the ground floor. All rooms have vinyl laminate, with the exception of the bathroom. This is equipped with tiles, shower with walk-in shower tray (without shower), toilet and hand basin. On request, the apartment is equipped with stove and sink.
Location
At the station 1a - Jüterbog.
5 minutes from the train station with the best connection to Berlin Südkreuz and Potsdamer Platz.
Also about 6 minutes away is a shopping center with items of daily needs. To the center about 3 kilometers.
Various
Immediate contact and further offers:
Final Developed Property GmbH

info [at] fdp-ts.berlin
Mon, and Thurs. 10:00 - 14:30
030 756 598 93
daily on weekdays
0178 34 26 951

General Privacy Policy
By contacting us and submitting your personal information, you agree that we will contact you again.
We may pass your information on to other companies for the sole purpose of contacting you for viewing the desired residential or commercial space or other property, and you agree to be contacted by us.
We do not provide address information to third parties without a license or use it for other advertising purposes. Any disclosure of contact information will only be passed on to fulfill a task, contract and commitment.
These are deleted after a reasonable time, or destroyed. Legal requirements, in particular storage periods, remain unaffected.
14913 Jüterbog, Deutschland